All the things you're looking for in a boot camp!
No crowds - Just personalised group training suited to your unique goals
What makes the best Seven Hills West boot camp? Some of the key ingredients include
Boxing and kickboxing
Functional training
Weights and bodyweight resistance training
Cardio exercise
Fun/ teamwork/ motivation
Our Seven Hills West boot camps offer all the things you're looking for, but we can also offer you something that your standard boot camp can't. Instead of "boot camp" we offer small group Personal Training which is capped at just 8 people. You will never be just another face in the crowd with us. Your male or female Trainer will get to know all about you, your unique needs, goals and abilities to give you the best session every single time.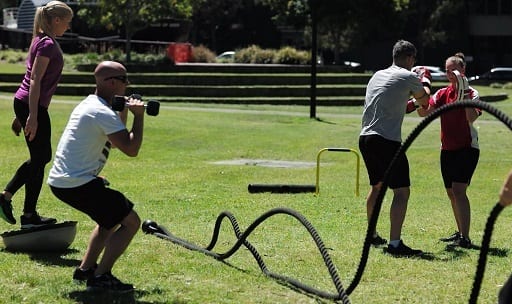 Small group environment
We try to build each group based on groups of people with similar goals and ability levels so that you can all help motivate and support each other, with no intimidation. You will get plenty of one-on-one time and support from your Trainer in such a small group environment. If we can't find you a group that suits your needs and availability, good news! You can build your own small group!
Workout with your friends
Just find a few friends and family who want to train with you, and you can book a private Personal Training at the exact time and location that suits you, we can even come to your home! The best part is that you can share the cost between you so you get the benefits of a private PT session, for a fraction of the cost, as well as the extra added support and motivation of having friends/family join you on your fitness journey.