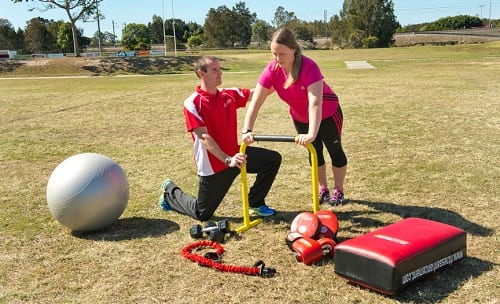 Home fitness and exercise gear
Get quality home gym equipment delivered to your door from Australia's largest mobile Personal Training company. Our Trainers know you don't need big, heavy machines bolted to the floor to improve your fitness. All of our Trainers are big believers in functional fitness training, you can do a wide variety of different exercises with just a few selected pieces of equipment. Get your fitness gear from our experienced Personal Trainers who know what works in a home environment. Our expertise and knowledge will help you to get to your goals faster and safer.
Functional training packages
Build your own training equipment package or check out our ready-made packages. We have training gear suited to all fitness levels and abilities. Our Trainers know that keeping your workouts variable, fun and interesting will keep you wanting to build up your fitness. Having just a few small workout items at home will allow you to create hundreds of different workouts and exercises. No more boring workouts, just check out this video of 65 different dumbbell drills and get inspired for your home training sessions! Use the same equipment our REAL mobile Personal Trainers use every single day. Visit our online store to get equipment hand-picked by our Personal Trainers.