Small Group Training
Get the variety Boot Camps have to offer without the crowds!
Do you like the idea of boot camp sessions with the motivation, fun, variety and high energy, but worried about getting lost in the crowd? Then we have the best alternative to a Parramatta boot camp – we offer small group Personal Training with all the same great functional movements, HIIT, boxing, kickboxing and resistance training you would find in a boot camp, but with the personal attention you can only get from a small group size.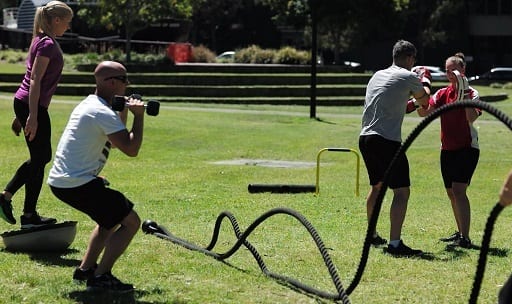 The personal attention you need
It's easy to get lost in a large group of people, and hard for a Trainer to make sure everyone is working at the right level for their ability. That's one of the big reasons why our Parramatta boot camp is actually a small group Personal training session instead – you get a personal, more private experience. We get to know you as an individual, not just another number. We will know your injuries, medical conditions and special needs you might have, so that each session can be tailored to suit your unique needs.
Make your own group!
If you're interested in joining one of our small groups we endeavour to match you up with a group having similar goals and ability levels to make sure everyone works at just the right level. We need to know a bit more about you and what your needs are so we can let you know which location and time slot is best for you. If we don't have the right option available, we can also look at helping you put together a group of friends and family so you can start your own private small group training option and you can rock your goals together!