Boot camp style fitness sessions
Our Trainers customise every workout to suit your abilities and goals!
When you're trying to make the decision about which is the best East Ryde boot camp or fitness session for you, here's a few things to consider.
Do you prefer a smaller group size to give you more personal attention?
Would you prefer a more custom-made training session that is tailored to your goals/likes/dislikes?
Do you prefer to train with other people who have similar goals and are at a similar ability/fitness level to you?
Do you have any injuries, health conditions or special requirements that restrict the things you can do safely?
Are you a beginner or intermediate ability level and need a bit more guidance and instruction to make sure you are training safely?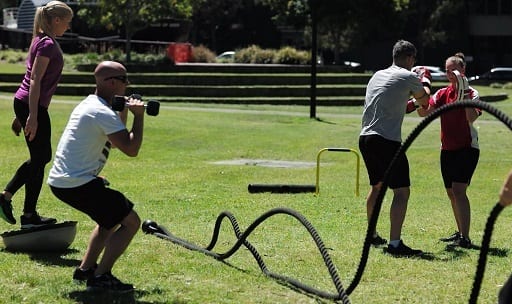 Motivating workouts
If you answered yes to any of these questions then we have a solutions to address them. Our small group Personal Training sessions will give you all the fun and functional training that you love like boxing, kickboxing, weight training, body weight exercises, cardio drills and HIIT, but each session is customised to you. Our groups are capped at just 8 people and we create each unique group to accommodate people with similar goals and abilities. We find this helps people feel less intimidated and self-conscious, and also helps the groups work cohesively towards the same goal, whist motivating and supporting each other through each workout.
Affordable fitness
If we cannot find the right group to suit your needs, then have another fantastic option for you. You can put together your own small group of friends/family/colleagues – and you can schedule your own private Personal Training sessions where the Trainer can come to you wherever and whenever you like, even at your home. You can share the cost of the session between you and so you get the benefits of a private PT for a small part of the cost!