Motivational fitness in a safe environment
Our Trainers make your boot camp workout fun plus you never have to do the same workout twice
We love boot camps for building fitness in a fun and motivational environment. For a Caringbah boot camp that can cater to all your needs, check out all the ways that our small group Personal Training gives you all the things you love about boot camp but with so many more benefits.
Our small group Personal Training which started on the Gold Coast is capped at just 8 people
We custom make our groups of people with similar goals and abilities, so you won't feel intimidated by people who are bigger, fitter, stronger than you.
Your trainer will get to know you as an individual with your medical history, specific needs, injuries, goals, likes and dislikes considered.
Don't be just another face in the crowd, in such a small group every exercise is personalised so your workout is as unique as you are.
Get lots of personal attention and support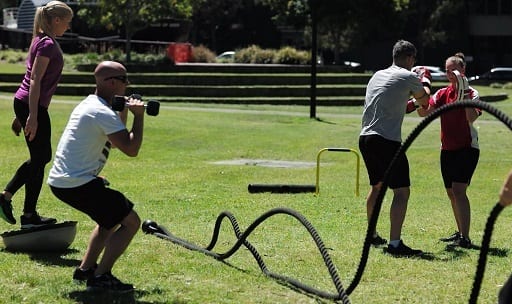 Tailored training program
Don't worry though, we still do all the same great, fun and motivational exercises that you would find in any other Caringbah boot camp including boxing, kick boxing, functional training HIIT, resistance/weight training and cardio – but it's just tailored to exactly what you need and want, rather than just being a generic program.
The time and location that suits you
If we don't have the exact time and location available that suits your needs, we also have another option, where you can build your own small group and work with a private Personal Trainer. The benefit of this compared to a Caringbah boot camp is that you get to choose the exact time and location that suits you, your Trainer can even come to your home. You get to pick the people who will most support and motivate you to be a part of your fitness journey and join your group – and best of all you can share the cost of the sessions between you! All the perks of private PT for a fraction of the cost.