Fitness at your doorstep
Our Double Bay Personal Trainers will help you become the fittest you've ever been!
What options are there for a gym in Double Bay? Many of the traditional Double Bay gyms and health clubs offer you a great range of fitness machines, but they don't give you all the tools you need for success. They rely on you to be able to motivate yourself to get there multiple times a week, train yourself appropriately and intensely enough, know what to do and how to do it safely, have time in your schedule to travel to and from the gym and have the support of your family/kids/partner.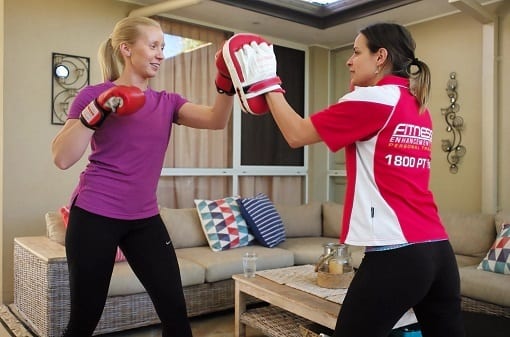 Knowledgeable and experienced Trainers
If you are a knowledgeable, experienced and self motivated person, then this won't be a problem for you, and any Double Bay gym will suit your needs. But if you happen to be a person who needs a little help with motivation. If you happen to have an injury or health condition that required modifications to train safely. If you have kids and the crèche hours don't work for you. Or if you simply struggle to make the time to get yourself into the gym without someone to keep you accountable, then we have a fantastic alternative.
We bring the Gym to you!
We have Mobile Personal Trainers that bring the gym to you. Our Double Bay Trainers are experience, qualified, down to earth and friendly. They bring all the equipment, all the motivation and all the personalised, customised training programs each session, all you need to do is open the door. Your kids can relax and play at home while you focus on achieving your fitness goals. Find out more about what our Mobile Personal Trainers can do for you and compare us to your Double Bay gym to see what is the best option to achieve your goals!