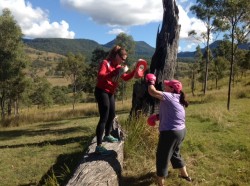 Meet our mobile Personal Trainer Tanja Thomas, she has been a Trainer with Fitness Enhancement for 3 years, she is studying Health Science and her favourite style of training is Tabata.
Weight loss and fun runs
When growing up Tanja was never a sporty child, she did play some school sports like hockey and softball, but it wasn't until later as an adult she started playing volley ball and competing in fun runs. Tanja grew up in North West Tasmania but left for Queensland at 17 and never looked back. When Tanja was younger and even as a child she was always overweight, in her 30's and 40's she lost a lot of weight and started to compete more in fun runs and also completed a couple of half marathons. With the weight loss Tanja got right into health and fitness and really felt the benefits, and with that her interest grew for making it into a career.
It's not about being a skinny mini
Tanja had been in office jobs for 2years working within accounting and administration, but she didn't want to continue working in the toxic environment of the office life. Life is too short to be in a job that you don't enjoy. Therefore, in her early 40's, Tanja decided to have  a career change and become a Personal Trainer. Having been a Trainer for five years, Tanja is now working on a bachelor degree in Health Science in Musculoskeletal Theraphy to further her knowledge and experience. Tanja's favourite part of being a Trainer is building the relationships and rapport with clients, Tanja loves seeing people enjoy themselves while exercising and achieving their individual goals. Tanja says she is very old school in her training style, she feels it is not about being a skinny mini but being healthy, fit and happy.
Five questions with Tanja Thomas:
What is your biggest achievement as a Personal Trainer?
Actually becoming a Personal Trainer and being able to help others.
What is your most memorable training session?
That very first session with a new client is always my most memorable session. I remember them all and down the track remind clients of how far they have come from that very first session they did.
What is your favourite exercise as a Trainer?
Compound exercises, boxing, interval tabata training. I like to occasionally get involved and join in with the tabata training. I think exercises should work more than one muscle and not isolate.
What is your favourite exercise or sport outside of work?
Walking, running, cycling. I have my own gloves and boxing bag downstairs and love to get down there and get stuck into boxing and kicking. I do have to admit I like cardio and getting the heart rate up.
What is your favourite quote?
Life is way too short to be unhappy and therefore you are never too old to make a change.
Also read more about our team at Fitness Enhancement; Sue Stedman our newest Franchisee in Sydney, Our Brisbane Franchisee Eli King, Trainer Hanna Sivén who loves spending time in nature, and golf playing Trainer Matthew Gatt.