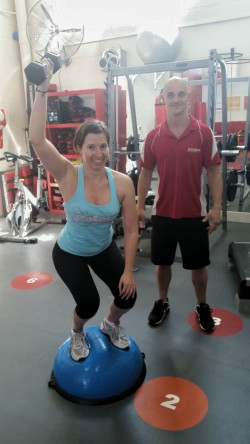 Ryan Engwerda has been a Personal Trainer with Fitness Enhancement for over six years, many clients have enjoyed his sessions at our Nerang studio and mobile sessions around the Gold Coast.
Growing up
Ryan grew up in the small country town of Kyabram in Victoria. Growing up he was an active child doing many sports, for example cricket and martial arts. Ryan was also successful playing football and won two premierships with the football club he played with. Since he has been on the Gold Coast he has been practicing mainly Muay Thai which requires a huge amount of training and discipline.
 Why Personal Training
When Ryan started doing training in the gym, he realised what a great effect it has on the body and the benefits you can get from other sports from doing resistance training. Ryan decided that he wanted to make it his profession and help other people with their health by building a stronger and more efficient body. When Ryan moved up to the Gold Coast he started working at Fitness Enhancement and has trained clients in the Nerang studio and around the Gold Coast for over six years. Ryan's sessions are bootcamp style with a mix of weights and boxing, he likes pushing his clients hard and will not accept any excuses. For clients that are interested in Muay Thai or self defence Ryan is available to book for one on one sessions.
Five questions with Ryan Engwerda:
1. What is your biggest achievement as a Personal Trainer?
When someone comes in and hasn't done much or any exercise before, after weeks and months go by, it is great to see the positive effects not only on their fitness and health but also on their jobs and their lives.
2. What is your most memorable training session?
All the sessions when my clients work really hard and get the results they deserve are memorable.
3. What is your favourite exercise as a trainer?
Burpees, because everyone hates them but they are an excellent exercise.
4. What is your favourite exercise or sport outside of work?
Muay Thai.
5. What is your favourite quote?
"Over-thinking corrupts the mind, destroys happiness and creates problems that never even existed in the first place."
Also read more about our team at Fitness Enhancement; Sue Stedman our newest Franchisee in Sydney, Melbourne Franchisee Matthew Eddy, and cricket player Damian Wallis.