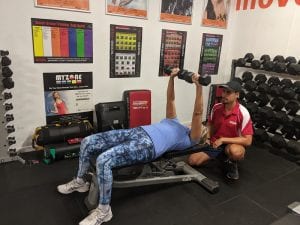 Motivation for training
When Kathryn saw herself in the mirror around her birthday, she decided that something needed to change! She didn't like the image she saw in the mirror and wanted to start working towards her health and fitness. Kathryn got in contact with our Brisbane Personal Trainer Tane to start her fitness journey. Her initial goal for training was to lose some weight and tone up, so that she could be happier with herself. In the 6 months, she has been training with Tane, Kathryn has lost around 10 kgs and feels way more energised than before!
Personal Training that's 'personal'
Kathryn enjoys the one on one personal connection in her training sessions. She thinks that it's highly important for her Trainer to be able to cater to both her physical and mental wellbeing at the training sessions. And that's exactly what Fitness Enhancement is all about: Personal Training that's actually 'personal'! Kathryn really enjoys boxing with her Trainer Tane, but says that the most important aspect of the sessions is that her Trainer listens to her. Trainer Tane arranges sessions that suit Kathryn's busy schedule and plans exercises that suit her abilities! Kathryn has been to many other gyms in the past and says that with Personal Training she feels more motivated to continue as there is more stimulation and more accountability.
Mobile and Studio sessions
Kathryn trains both in a local park and in our Bowen Hills Personal Training studio in the heart of Brisbane. She likes the variety that both training locations offer. Her and Trainer Tane have discussed her future goals and Kathryn really wants to get stronger. To reach her goals faster, she has upped her sessions to 3 times a week!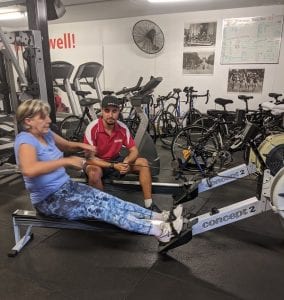 Kathryn says:
I didn't think that I would ever be able to do a push up or a squat, but we have achieved that! Yee haa!
Favourite exercise:
Boxing.
Least favourite exercise:
Stationary bike.
Future goals:
To get stronger and tone more.
*Individual results may vary