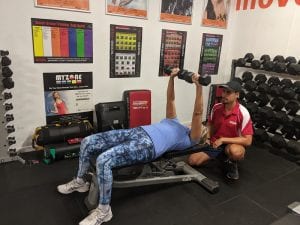 Experience in Fitness
Tane grew up in Brisbane and got interested in health and fitness when he was about 16 years old and has been passionate about training ever since! He decided to become a Personal Trainer after he started spending a lot of his free time researching the best, correct, and most efficient way to train himself. In 2016, Tane completed his certificate 3 & 4 in Fitness plus he also gained his Nutrition certificate. To extend his knowledge even further, Tane continued studying Anatomy and Physiology in a university and is planning to undertake even more courses in the future. After completing his studies, Tane pursued his career as a Personal Trainer and has been working for Fitness Enhancement for a couple of years now. Tane trains mobile Personal Training clients all around Brisbane and also works in our Bowen Hills Personal Training Studio in the heart of the city.
Most memorable sessions
Tane enjoys strengthening, conditioning, and providing full body workouts for his clients. One of his biggest achievements as a Trainer is helping one of his clients lose over 30 kg. This client is still training with Tane to the date and he is very excited to see the end results of her amazing weight loss journey! Tane loves helping his clients learn proper training techniques in squats and deadlifts and enjoys when they achieve a new personal best after weeks or even months of practicing. Tane's favourite part of being a Personal Trainer is forming interpersonal relationships with his clients, so they can feel like they are training with a real, down-to-earth and friendly person rather than just a Trainer who's telling them what to do!
Quick questions with Tane:
Favourite exercise – The weighted squat
Favourite sport outside work – Rugby League
Favourite Quote – "Do or do not, there is no try." – Yoda