Friendly and motivating Trainers
Our Trainers in Lambs Valley make your boot camp safe and effective
Want to find a fun, friendly Lambs Valley boot camp? Look no further! All your favourite boot camp exercises including boxing, kickboxing, HIIT, functional training, weight training, cardio training and much more, but with a unique twist. Instead of your standard, large, generalised boot camp, we offer small group Personal Training capped at just 8 people. Why such small numbers? We believe the best way to train is with a session that is as unique and individual as you are. In a small group your qualified Trainer will get to know all about you, likes, dislikes, goals, medical conditions, injuries, you name it!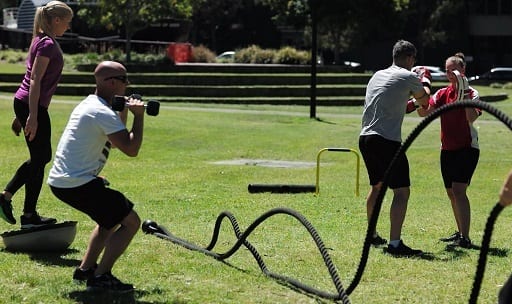 Small group training that's right for you
Our Trainers know how to modify and advance every exercise so your session will never be too hard or too easy, and you will never get lost in the crowd. Your small group Personal Training session will be just right! Because we like to keep clients with similar goals and abilities together we custom make every small group. If we don't have exactly what you need in the time and location you want, we have more options!
Make your own training group
You can build your own small group of co-workers, friends or family who all want to work out together, and lock in the exact day and time, and location you choose, we can even come to your home. Then you can share the cost between you, so you get all the benefits of a private Personal Trainer, but for a fraction of the price. So if you're keen for a Lambs Valley boot camp, why not check out our Lambs Valley small group Personal Training instead?