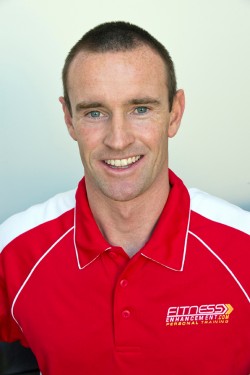 Meet Matthew Eddy, our newest franchisee in Melbourne offering Personal Training in Berwick, Narre Warren and surrounds
Professional sprinter
Born and raised in Melbourne, Matthew Eddy was an active kid with his biggest interest being footy and cricket. At 18 years old, Matthew started sprinting professionally, he says he had always been fast and now he gets to use that while competing at the same time. Nowadays he does about 25 professional races per year; his achievements include 6 x Stawell Gift semi-finalist and 2012 Maryborough Gift winner, one of Australia's richest foot races. The next big race will be Bay Sheffield in Glenelg, South Australia at Christmas time with $26,000 in prize money!
Natural choice
Becoming a Personal Trainer was a natural choice, Matthew wanted to be able to impact on people's lives, he wanted to help them gain confidence and achieve their goals. He believes there is no better feeling than watching someone achieve their goals and potential.
Experience and knowledge
He has worked as a Personal Trainer in Melbourne since 2008, he has a lot of experience from different areas of training both working with athletes and working with clients in gym and studios for many years. Some of Matthew's clients in the years prior to becoming a Fitness Enhancement franchisee have been Hawthorne football club where he worked with the players to improve their strength and conditioning. He has also worked for a sports medicine clinic, training clients with injuries and helping them with rehabilitation. After lots of research Matthew decided to buy a Fitness Enhancement franchise for all the extra business and marketing support he knew he needed to take his business to the next level.
Five questions with Matthew Eddy:
What is your biggest achievement as a Personal Trainer?
As a Personal Trainer, our goal is to help our clients achieve their goal, so my biggest achievement is being able to make a livng out of helping so many clients achieve their health and fitness goals.
What is your most memorable training session?
My most memorable session would be when one of my clients who had never run before, achieved her goal of being able to run a lap of an oval. The excitement on her face was very memorable.
What is your favourite exercise as a trainer?
It would have to be push up burpees as it is a fantastic exercise that works the whole body.  But don't worry of you really hate them you won't have to do them 🙂
What is your favourite exercise or sport outside of work?
Favourite sport to watch is AFL Football (Collingwood). Favourite sport to participate in is Athletics, more specifically sprinting.
What is your favourite quote?
"Don't go where the path may lead, instead go where there is no path and leave a trail."
Are you interested in becoming a Fitness Enhancement franchisee?
Visit our franchise page here.  Plus, more importantly, we've gotten Matthew more clients in a few weeks with us, than he got in the past year of having his own business!