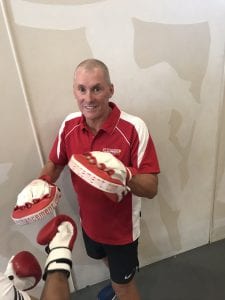 Scott Sheehan – Franchisee, Personal Trainer, Father and Grandpa
Scott has been married for 33 yrs, Scott and his wife have 2 grown boys and a beautiful Grandson. Previously located in Tasmania they recently moved to the Sunny Coast to be closer to their younger son and grandson, and are loving the coastal life! Scott and his wife lead a very active lifestyle and love the outdoors, walking, riding bikes and swimming at the beach, and have recently joined an outrigger canoe club.
From Retail to PT
Scott's background is in retail, mostly in supermarkets in a variety of manager roles, as well as Coca Cola in a sales role. After many years of working long hours, missing out on time with his family and feeling like he wasn't really passionate about his work, Scott decided it was time for a change. Scott discovered his passion lies in being able to help people. He really enjoys seeing clients grow and achieve their goals, Scott loves making connections.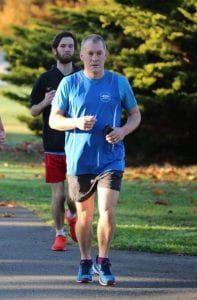 Passionate about the NDIS
Scott says one challenge he and his wife have had to work through is their oldest son Nik living with autism. His diagnosis and specific needs have provided Scott and his wife with many challenges. He notes "It's amazing how many walls you have to walk through repeatedly to get help for Nik so he can live his best life, but the upside is I think it has made us more grateful for what we have in our life, we have moved states 3 times, but life's an adventure!" Having first hand experience dealing with all the barriers that a child with special needs can face, Scott is excited about the opportunities that working with the NDIS has opened up. The National Disability Insurance Scheme provides government funding to people living with a disability to give them the opportunities and support they need to live a healthy and independent life. Being an NDIS registered company, Fitness Enhancement provides government funded Personal Training to eligible participants, and it has opened up the opportunity for Scott to give back, and help other families with special needs.