Small group training - better than a boot camp!
Forget large crowds, our Trainers will make sure you get the personal attention you need to achieve your goals
How can you tell which Mount Thorley boot camp is the best boot camp for you? Maybe the answer is not actually a boot camp, but our small group Personal Training! But what's the difference? Well to start with our small group Personal Training sessions are capped at just 8 people. So instead of being one face in a large crowd, you will get to work with your Trainer and a small group of like-minded people in a much more intimate setting, with unique and personalised sessions that cater to your exact needs.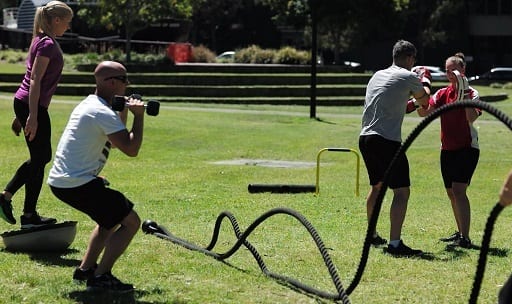 Workout with like-minded people
If you have any health conditions, injuries, special needs, likes, dislikes or you are simply new to exercise and need a bit more personal attention and help to get your movements done safely and correctly, then our small group Personal Training is for you! Your Trainer will be able to modify every exercise in every workout to suit your exact needs. We also like to build our groups out of like-minded people who are working towards similar goals and at similar ability levels, which can help you feel more comfortable and confident, so you will never feel out of your element or intimidated walking onto the group.
Fitness sessions with your friends
If we can't accommodate you with an existing group, you can build your own group and hire one of our private Personal Trainers to come to you at the time and location of your choice – we can even come to you at home. The beauty of this is that you can choose your best friends and family to join you, motivate you and support you on your fitness journey, and then share the cost between you!