Results as good as in-studio but with less hassle
Results don't come from fancy Gym machines; they come from experienced and innovative Trainers that know the best way to program unique sessions for unique individuals. It's one of the reasons our Mobile Personal Trainers in Wooloongabba and Brisbane-wide can get you the same great results as coming to our Studio, and way better results than any Gym, but saving you the travel time.  You don't need much room, any small backyard, garage or lounge room is plenty of space – you might even like to go to a nearby park if you prefer a big outdoor space! Check out the videos of our sessions at our Studio. Unless your goal is to lift huge weights, most of the exercises we do in the studio can be replicated at home with the gear our Mobile Trainers bring to you.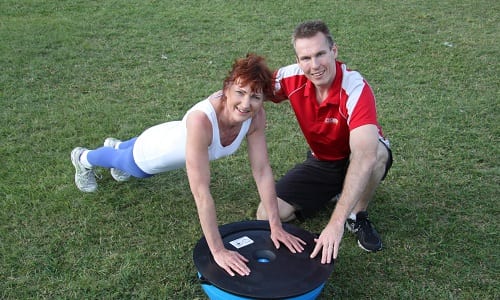 Mobile Personal Training solves problems
Don't have the time to waste sitting in traffic driving to a Gym, or our studio?  Too tired to get home from work then go out again? Need to squeeze your session in right before you head to work?  Problem solved!  Your Mobile Personal Trainer will come to your Wooloongabba home (or any suburb across Brisbane) whenever you like from 5am to 9pm. If you travel for work we have Trainers throughout most of Australia.
No-one to babysit the kids while you train? Can't get away from the house? We're more than happy for them to play while you train, and they can even join in the session if they like. What a great example for health and fitness you'll be setting, if kids have a positive association with fitness from a young age it will stick with them to adulthood.
We all know how much easier it is to shop from home or even work from home, so why not get fit from home?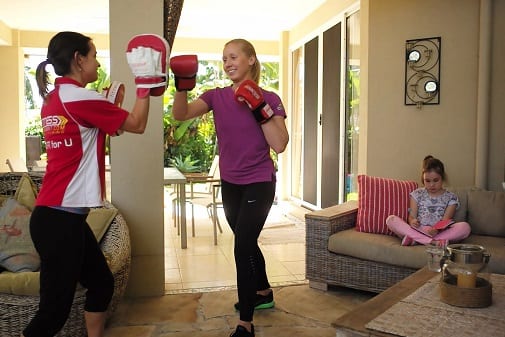 Home, resort gym, park, beach, work or anywhere you like
We can train you anywhere that suits you, we can come to you at work on your lunch break, meet at a park, if you have a gym in your building complex that works too – we've even trained clients on a yacht. It's fine to mix and match your location depending on the weather or your work, just let your Trainer know. You can have friends or family join you for just an extra $10 per person per session which can make it more affordable and more fun for you! You can even organise a Corporate Health and Wellness Program and have your boss pay for you and your colleagues to get in shape.
Or if you'd prefer, come to our Woolloongabba Personal Training Studio our one-on-one sessions are 100% private, or you can try our small our Group Personal Training starts from only $40 a week for unlimited classes.