Kickboxing inspired Group Personal Training classes
Our PT8 Small Group Personal Training classes are fun, simple and they work. Each class is run by one of our Certified Personal Trainers, with class sizes so small you won't get lost in the crowd, you'll get plenty of personal attention and we can tailor each session to your needs. We love to include Kickboxing for fitness, but unlike some group classes – you'll never have to punch the air, you'll be punching real punching bags for real results! We don't just limit our sessions to punching and kicking, we incorporate many of the most effective and functional exercises including free weights, exercise bikes, steps, fit balls, skipping, suspension training, bosu balance training and much more. Plus you get to train in the comfort and privacy of an air-conditioned studio, not at the local park like other Gold Coast Boot Camps.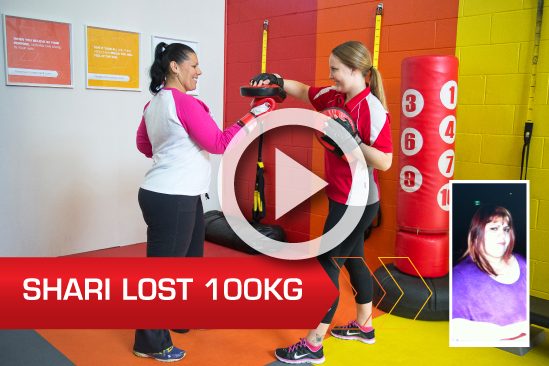 Small groups, big results
If you love kickboxing for fitness but you're sick of being a face in the crowd of 40 people, and you want a little extra attention and assistance, then this is the right place for you! PT8 Small Group Exercise sessions are held six days a week inside our private, air-conditioned Personal Training Studio on the Gold Coast. Our small group sizes give you big results! Just check out how Shari lost 100kg with us! All of our Trainers are qualified, friendly, professional and dedicated to getting you in the best shape of your life.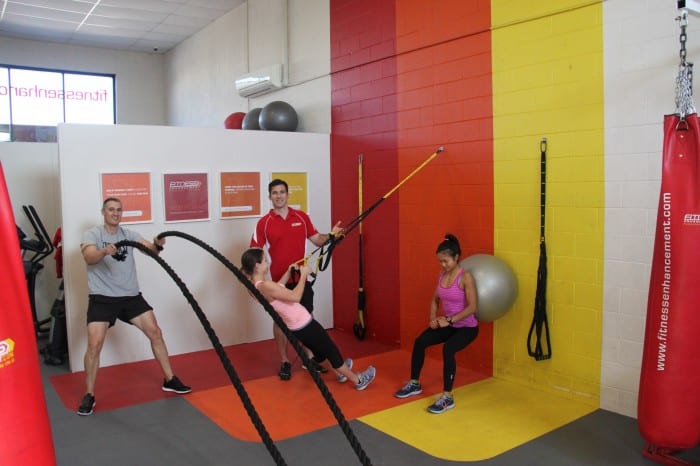 Why is PT8 better than traditional Boot camp?
We customise our sessions around your fitness level and goals. Our experienced Personal Trainers will get to know you and you'll get a custom-made workout for you and your small group capped at 8. We make sure no one feels out of place, because everyone works at their own station at their own pace, and is given the right modifications needed for their health, injuries, goals and fitness levels. You get the personal attention and expertise of a Personal Trainer for a fraction of the cost of one on one PT. With the added motivation and accountability of our state-of-the-art heart rate monitoring system, we make sure everyone is working at exactly the right pace for their needs!