When it comes to group training options here in Australia, 2 of the best companies you can choose from are F45 and PT8 (Fitness Enhancement's group training brand). To decide which one is the best fit for you let's find out a bit more about both companies, what they offer and what the benefits are of each.
F45 History and locations
Founded in 2012, F45 has exploded in popularity expanding worldwide very quickly. F45 is partially owned by Mark Wahlberg who has generated a lot of social media and celebrity interest, popularising the hashtags and selfies. They currently have over 1800 studios around the world, including at least 600 locations in Australia and 600 in the US. Their Australian head office is 30 Alma St, Paddington NSW. Their primary focus is on high intensity circuit training for 45 minutes.

PT8 History and locations
Founded in 1999, Fitness Enhancement has grown steadily to be one of Australia's largest Personal Training companies, with PT8 being born as the company's answer to small group Personal Training, with the primary studio location and head office in 9 Jupiter Plaza, 12-20 Lawrence Dr, Nerang on the Gold Coast in QLD. The focus is on functional training tailored to all abilities for a 50 minute session, capping classes at just 8 people. Fitness Enhancement services over 2000 suburbs on the East Coast of Australia, and is 100% focussed on the local Australian market.
Price
If price point is important to you, then you're looking at about $65 a week for an F45 membership, and between $40-$50 a week for a PT8 membership depending on which option you choose.
F45 occasionally offers lower pricing for challenges and trial memberships, but this can often mean larger crowds and chaos during these periods. With stations being over capacity and cramped – regulars can get the short end of the stick. PT8 offers the first session as a free trial, and then regular pricing, so they can focus on their regulars, rather than the seasonal influxes that come with special deals and challenges.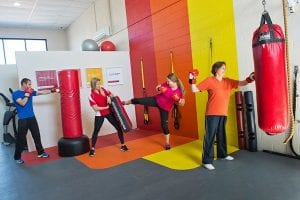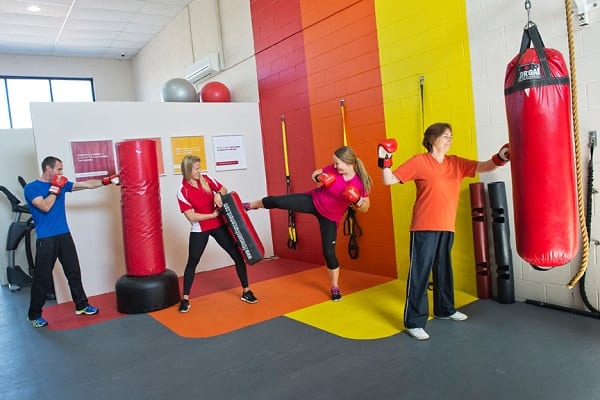 Class sizes
F45 class sizes can be around 30-40 people at a time. PT8 caps it's classes at just 8 people (hence the name), so it's more of a "Small Group Personal Training" compared to "Group Exercise".
Best for beginners
If you haven't trained before, if you find a fast paced, busy and crowded session intimidating, if you need a lot of guidance on technique and correct form to help reduce risk of injury, then the small group size and slower pace of a PT8 session might be a good starting point for you. F45 offers progressions and regressions on each station, but with just 2 trainers to monitor a group of 30-40 clients you might not get the personal attention you need when you're first starting out.
Best for advanced
F45 offers great high intensity and fast paced sessions with progressions of each exercise to make it suitable for a variety of fitness levels, so it is often more popular with a more advanced clientele who like to push each other to go harder, heavier and faster. PT8 classes tend to tailor sessions to suit clients with a variety of needs tending to a more beginner/intermediate level, however, the small class size makes it easy to adapt and challenge more advanced clients by giving them a more challenging movement pattern, or higher intensity. This is monitored by the heart rate monitoring system in studio, having all clients heart rates displayed on the TVs, ensures each client is working at the correct intensity for their unique needs and goals.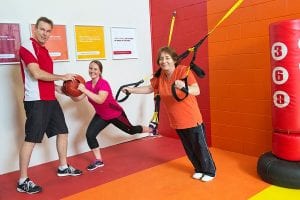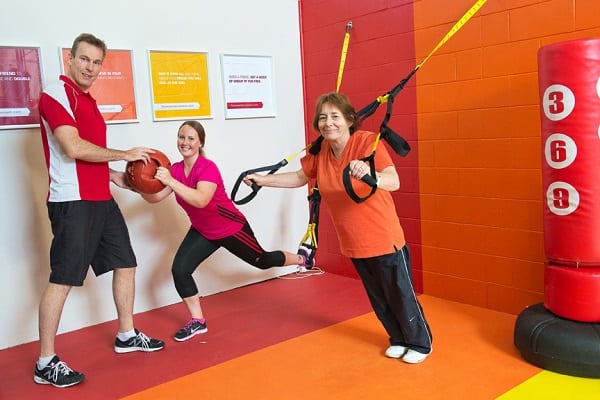 Best Programs
Both companies deliver functional training using a variety of free weight and cardio focussed movements. F45 as an international company delivers the exact same sessions each day at every studio around the world. PT8 as a smaller, local company creates each session independently each day at each location to suit the needs of the group that is coming to that time slot.
Injuries and health conditions
If you have an old shoulder/knee injury, a bad back, high blood pressure or any other injury/medical condition that makes exercise a bit challenging for you, you will need significant modifications to keep you safe. F45 offer progressions and regressions, but not the options for specific changes to each station to suit an injured client. PT8, with small class sizes, offers the option to tailor every single station to suit the unique needs of each client.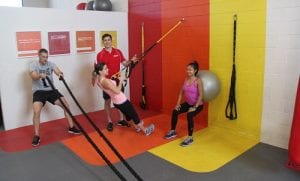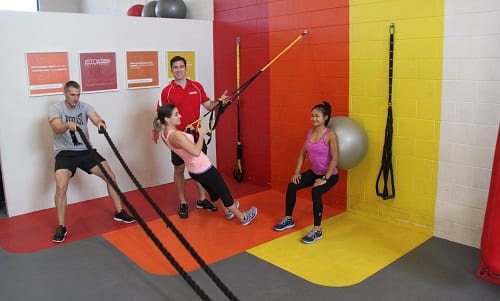 Best results
Depending on who you are, what you like and what you need, the place for you will depend entirely on what suits you best. F45 tends to be a younger, fitter crowd who thrives on the "squad" environment, busy, noisy sessions and post-workout selfies. PT8 tends to be a slightly older, more beginner/intermediate crowd focussed on general health and wellness, with a few more injuries and issues. Not so many mirrors or selfies.
As one mother/daughter pair who have tried both, mum explained, "F45 is perfect for my 19 year old daughter, and 20 years ago and 20 kilos ago it would have been for me too. But at 40 years of age, I wanted a place with more like-minded people that catered to those little issues my daughter doesn't have to worry about!"
In summary – at a glance
| | | |
| --- | --- | --- |
|   | F45 | PT8 |
| Years in business | 8 | 20 |
| Price | $65 p/w approx | $40 to $50 p/w |
| Class size | 30 to 40 | 4 to 8 |
| Intensity | High | Moderate |
| Program design | Repeated at every location worldwide | Unique to each location and participant |
| Injuries accommodated | Maybe | Yes |
| Approx average age of participant | 25 | 45 |