Whether you're a Personal Training client, a Trainer, a business owner yourself, or considering buying a Fitness Enhancement franchise take a listen to this interview with our CEO and founder Scott Hunt.
Small Business Big Marketing is Australia's #1 marketing and small business podcast and it has had some world-renown past guests such as Michael Gerber author of the E-Myth, one of the world's best-selling business books and Melanie Perkins, creator of Canva, a three billion-dollar company.
Scott shares the secrets to his success and how he built Australia's largest mobile Personal Training business from just $400. Now servicing over 2,000 suburbs Scott reveals his passion for continuing to offer the same level of service he did when it was just him.
He shares what frustrates him about the fitness industry and why his 100% private niche solves the problems most of his competitors don't. Plus he reveals his most effective marketing strategies which he normally only tells his franchisees.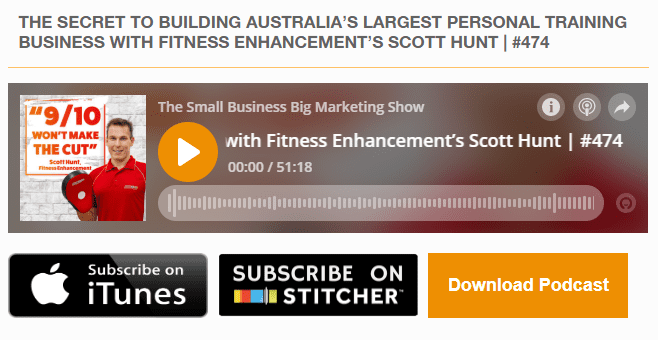 Find the full interview here or download it on iTunes.
Interested in becoming a Trainer or franchisee with us? Find out more here
"I loved Scott's focus on maintaining quality customer service no matter how many employees or franchisees he has. He is absolutely determined to not drop the ball on that"
– Tim Reid