We're well into May and heading towards the cooler months. It's time to revisit your goals, renew your motivation and set yourself a new challenge.
We are putting together a Fitness Enhancement team to compete in the Gold Coast Marathon 10k race in July. This will give you a fantastic goal to aim for along with the support, camaraderie, motivation and encouragement to help you complete the race with a group of your peers!
We are open to all Fitness Enhancement clients and friends of Fitness Enhancement. If you train with one of our amazing Trainers in Melbourne, Sydney or any other location, you can still come and join in with the Gold Coast Team behind you!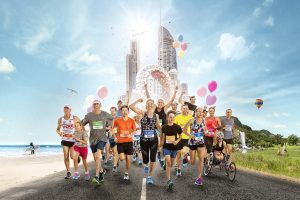 RACE INFO:
| | |
| --- | --- |
| Distance | 10km |
| Date | Sunday 4 July 2021 |
| Entries close | Friday 4 June 2021 (11:59pm AEST) |
| Recommended arrival time | 5:30am |
| Start time | 6:30am |
| Minimum age | 12 |
| Fee | $90 (AUS & NZ) |
| Cut off time | 1 hours 40 minutes |
Frequently Asked Questions:
What if I've never done a fun run before? -No worries! A team event like this can be a fantastic first event to ease you into it and challenge yourself in new ways, you will also have the full support and assistance of the Fitness Enhancement Team with you every step of the way.
What I'm not fit enough to run? – there is no need to be a professional athlete or a runner, we have clients of all ages and abilities joining us. You can even walk if you like, the cut off time to complete the race is 1 hour 40 minutes – that is a pace of 10 minutes per kilometre (walking speed)
Will there be any race training sessions? – a couple of pre-race runs will be organised leading up to the date, but your Trainer can also tailor your sessions to have a more running and cardio endurance focus for the next few months to help you prepare.
What does it cost? – It's FREE to join the Fitness Enhancement Team, all you need to pay is your race enrolment, $90
If you're keen to join our team and achieve your next fitness goal then please follow the steps below and get started!
How to join the Fitness Enhancement team for the Gold coast marathon 10k??
If you have not yet joined:
Click the yellow "enter" button at the bottom of the page
Page 1 – Personal Details
Click next
Page 2 – Choose "Southern Cross University 10km run"
Page 3 – race details – option to join a team
Type in "Fitness Enhancement" team manager Scott Hunt
Enter pin – FEPT
Complete the last couple of pages of race details and payment
If you have already joined
Click the yellow "update my entry" button at the bottom of the page
You will need your confirmation code from your email to log in
Click through to the join Team option
Type in "Fitness Enhancement" team manager Scott Hunt
Enter pin – FEPT