We can get your Personal Training business booming!
Enquire now to meet us in Melbourne between the 8th and 12th of April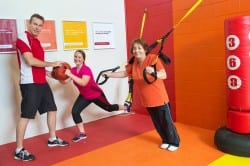 Are you struggling to get enough clients to make a great living as a Trainer?
Are you paying rent to a Gym and getting nothing from them except a nice facility where you have to compete with other Trainers? Are you struggling to get new enquiries through your advertising, and when the phone does ring you miss half the calls?  A Fitness Enhancement franchise solves all the problems, and at a comparable long-term price to Gym rent is surprisingly affordable.  As Australia's third largest Personal Training company with 1years of experience, we're experts at getting our Trainers busy.
Until now the only way to get big business support and big business advertising was to pay rent to a Gym, the catch is with limited growth opportunities and lots of competition Gym rent is more like "buying yourself a job".   So take a look at buying a real business asset and get properly rewarded for all your hard work.
Below are the top 16 questions you should ask when looking at Gym rent,
Personal Training jobs that only pay you per session (and not the hours and hours you spend at the Gym), your own business, our franchise or any other Personal Training business opportunity. Read on to see the value for money and business growth opportunities we offer compared to the typical contract, license or rental agreement at a Gym.
| | | |
| --- | --- | --- |
| The top questions top ask when look at Gym rent or other PT opportunities | Our franchise | Gym rent or contract |
| Does the average member spend over $5,000 on Personal Training? |   |   |
| Do over 80% of clients who do the first session sign up for a large package of sessions? |   |   |
| Do you get paid for every session including the first promo session? |   |   |
| Do you get an exclusive territory so you don't have to compete with other Trainers in the company? |   |   |
| Do you have a sales team to take your calls and book you new clients so you never miss a new enquiry? |   |   |
| Is the primary reason people join because they want an expensive Trainer (not a cheap Gym)? |   |   |
| Is there a clear niche that positions you, and heavily promotes you as the best Trainer in town? |   |   |
| Are you able to take on staff, open a Studio and grow your business as big as you like? |   |   |
| Are you able to build your business asset to sell for what it's worth one day should you choose? |   |   |
| Do you get ongoing print, online and other marketing material developed to directly promote you? |   |   |
| Is graphic design, video production, website development and more all included? |   |   |
| Does the company invest every single marketing dollar in getting PT clients, not Gym members? |   |   |
| Is there a custom made PT CRM program to book clients, market to clients and grow your business? |   |   |
| Is the head company a two times recipient of the prestigious Fitness Australia "Gold Award" |   |   |
| Is the head company legally bound by the Franchise Code of conduct to deliver what was promised? |   |   |
| Has the business been successfully tried and proven for over a decade? |   |   |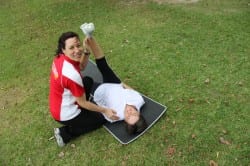 And if you've been thinking of buying a 24/7 Gym franchise but don't have hundreds of thousands of dollars handy, you should definitely take a look at us. We offer the bulk of the perks that owning a 24/7 Gym franchise offers, but for about 5% of the price.
If you can afford to pay rent at a Gym, you can afford your own Fitness Enhancement franchise!
We're in Melbourne for Filex, the Melbourne Fitness Expo and to meet with current and potential franchisees from the 8th to the 12th of April.  We'd love to meet with you too and answer any queries in person, appointment times are limted, so if you may be interested ensure you enquire right now so  you don't miss out!
Enquire now on 1800 PT for U (that's 1800 783 678) or contact us or find out more about our franchises at our main franchise page.